Sturling.p2
---
---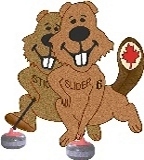 ---
1. Sturling part2 will be six weeks, starting 2022Jan21,Friday. The draws will be at 7pm (and a second draw at 8pm if there are more than 12 teams). Please follow the instructions of the email we sent to each club member 2021Dec17.

2. The cost will be 60$/person, due Jan17 by noon. When your team pays, it will be submitted to the Drawmaster to be included in the schedule.

3. The delayed start is to give time to see if any travel restrictions will be imposed; if snowbirds are grounded, maybe they'll curl instead...